These are my tracts on the Islam.
Cult12 The Bible vs the Koran.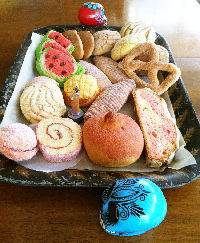 Buy me a piece of Mexican SweetBread!
Everybody likes sweet bread. In Mexico, it is a tradition to eat this sweetbread with coffee or hot chocolate before going to bed. But alas, while you are also enjoying the delicious stuff from my websites, I am out of money. A gift of any amount will at least let us buy a piece of sweetbread.
Please donate something for the upkeep of this website. I am bearing the burden of the monthly upkeep for years now, and I only have a few donations PER YEAR out of all of my websites, and that only like $25 dollars each time.