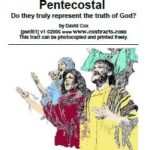 In this tract outline the broad problems I see in the Pentecostal movement
Subscribe2
Subscribe to get an email every time something posts.
Great Treasuries!
Discerning a Wolf in Sheep's Clothing from a Man of God
Read this article by Pastor Cox on discerning a wolf pretending to be a man of God. Some of the sections are
1. What are we looking for?,
2. Christ was humble and meek and mild, 1Timothy Requirements,
3. Good signs (Committment and self-sacrifice, be a fruit tester, be skillful and truthful expositor of God's Word, a good father),
4. What are bad marks? (miracles and wonders, willful dictators, false prophets like mutton, hypocritical and Two-faced)
Read article
Please donate on sidebar to help support this website.
News